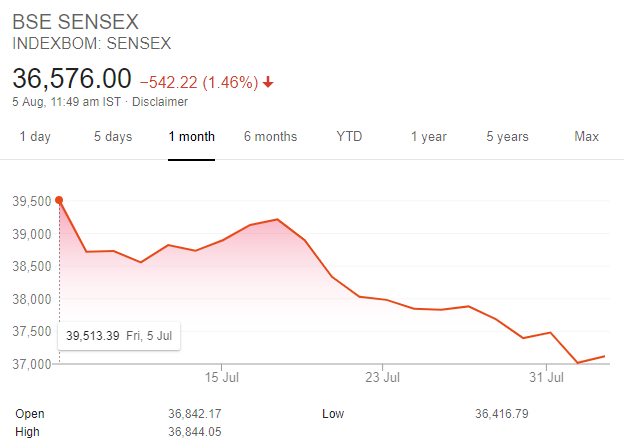 With so many things happening around us; major political decision today on Kashmir, US-China trade war escalation again last-week, and corporate earnings showing no sign of revival, market is on a downward spiral since July-beginning.

Instead of asking, what should we do? Let's look at from another viewpoint, i.e. seasoned player like Warren Buffet, what will he do in this kind of market?

Invest for Long Term – "Only buy something that you'd be perfectly happy to hold if the market shuts down for 10 years."
This quote sums-up our investing philosophy perfectly; that all the long term investments usually are in equity, and short term (1-3 years) are in debt or liquid funds, which are not affected by market melt-down or swings. Do we need to worry?

Patience is Key – "Calling someone who trades actively in the market an investor, is like calling someone who repeatedly engages in one-night stands a romantic."
"The stock market is designed to transfer money from the active to the patient."

Don't be impatient when it comes to your money. We have not come across a single soul, who can time the market, hence key to success or higher returns is the patience or the holding period, which one can endure (higher the better).

Doing Nothing is often the Right thing to Do – "You do things when the opportunities come along. I've had periods in my life when I've had a bundle of ideas come along, and I've had long dry spells. If I get an idea next week, I'll do something. If not, I won't do a damn thing."
Finally, it's about an opportunity in the form of right stock or fund, and not the market swings or movements, which should make one decide what to buy or sell.

Therefore, how one travels in an aircraft; leaving all worries on take-off, flight, turbulence & landing with the experienced Flight-Captain, similarly leave your worries on market movement with your trusted advisor. Just sit-back, relax & enjoy 😉.