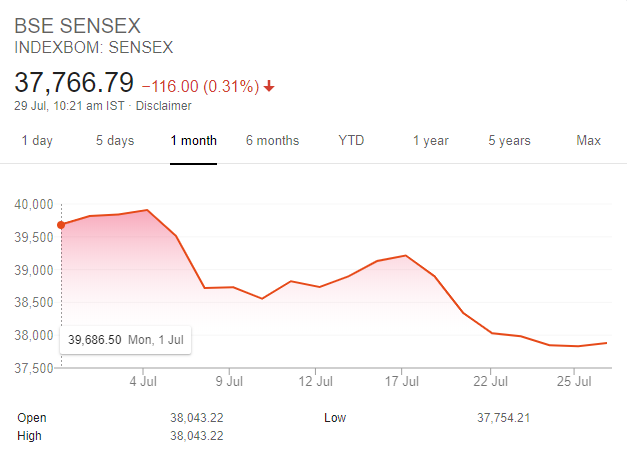 Since the budget announcement on 5th July, Indian stock market has had a downward run, leading to 2000 points drop in Sensex, from its peak.

How long this will continue?
Indian stocks are driven by two key parameters, i.e. FII money in-flow & Domestic growth numbers. Whether you call it a bad-luck, or chain of events; first with the recent budget announcement, FII growth or money in-flow has reversed in July-19. Almost 2billion USD, has been sucked out of the stock market, resulting in others (domestic investors) also getting into a panic of selling & adding to this pressure.

On the other hand, Domestic growth since last six months is under pressure, resulting in another bad quarter (Apr-May-June 19). Further adding fuel to the selling pressure, resulting in the stocks tumbling.

If one has to take cues from the historic charts, one can see that most of the worry is over, even if there is a fall further, same will not be as dramatic as the last two weeks. Most of the major news & declaration is out, what is left now are the sweet spots.

On one hand is the Government stand, they may give some sweetener to FII. But in case the same is not given, I don't see 40% of them (the affected FIIs) will look at exiting India completely, as India still offers the best investment market, compared to others.

Corporate earnings will eventually improve on the back of Monsoon improving & consumption returning, leading to corporates showing better results in the next quarter.

Speak to your trusted Advisor, for further clarity.