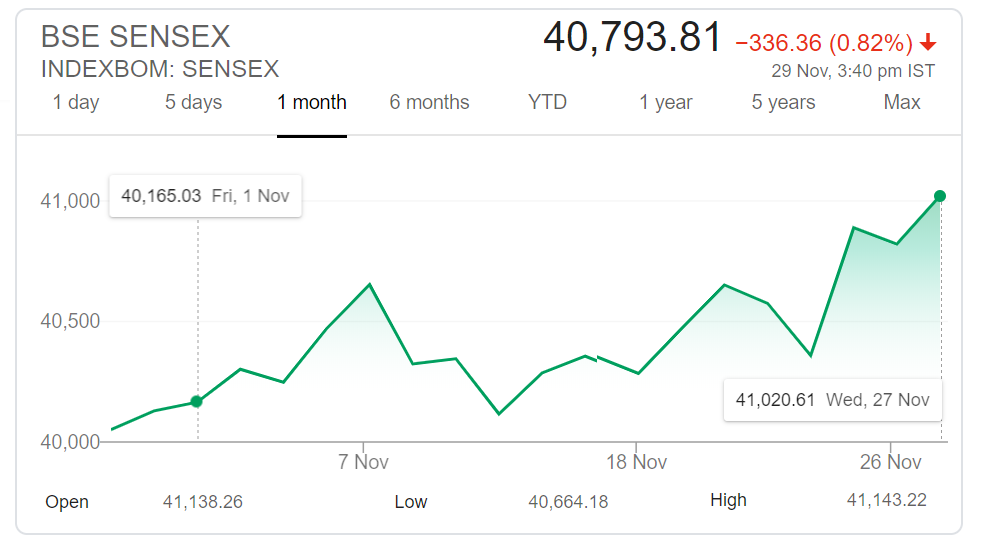 After months of net selling, FII (Foreign institutional investor) remained net buyers in November month, to the tune of 14,817 crores, whereas DII (Domestic institutional investor) opted for profit booking & were net-sellers.
Today (or Friday), the market witnessed selling pressure due to GDP growth announcement, which is expected to fall below 5% for the first time, since last six years, due to slowing demand, weak IIP data, slump in export, and global slowdown, resulting in further downfall. Sensex settled 336 points down at 40793, and Nifty settled 95 points down at 12056.
The CSB Bank IPO opened with a huge response, subscribed 87 times on Tuesday, and will make a debut on 3rd December, next week
Shares in focus; Reliance industries crossed the 10 lacs crore mark by market capitalization, India-bulls housing finance surged 40% in last three days after regulators gave them clean-chit (did not find any irregularities in loans given to certain entities), and Auto sector gained on scrappage-policy news.