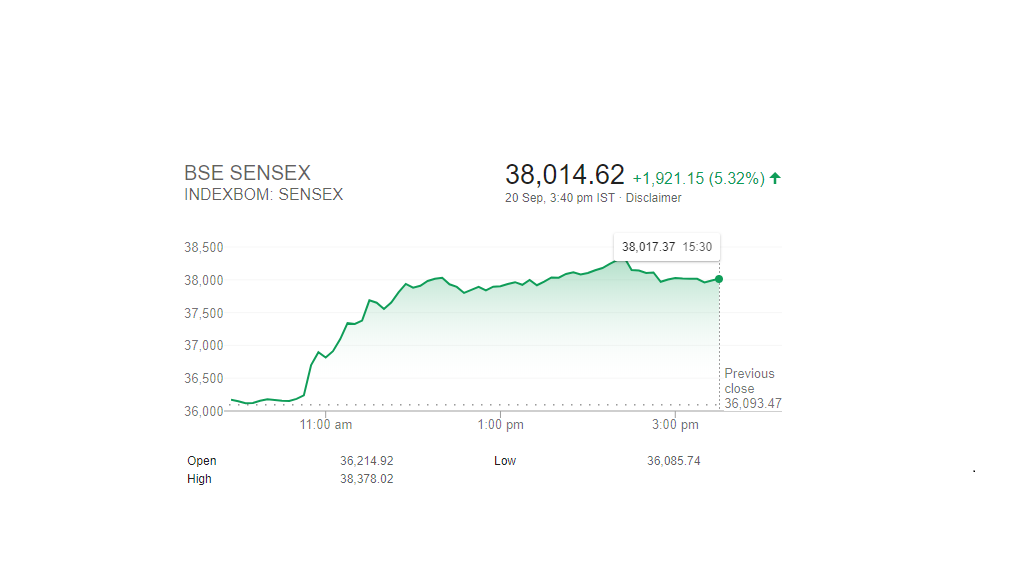 Like a blockbuster movie's Day1 opening, today's announcement by our dear FM Nirmala Sitharaman, pulled the market up by 2000+ points, like there is no tomorrow, snapping losses of last few weeks in a historical single day gain (in last Ten years).
Sensex settled at 38014, a gain of 5.32% percent!! Aggressive buying was seen in banks, auto and metal stocks. IT shares lagged the broader rally, as rupee edged higher at 71.12.
Asian stocks also ended higher on Friday, as economic stimulus around the world eased fears of economic deceleration. On the trade front, Chinese and U.S. delegates are meeting Thursday and Friday ahead of higher-level meetings expected early October to resolve the year-long trade dispute.

Stimulus announced by FM Nirmala Sitharaman on Friday are:

Corporate tax slashed to 22% for domestic companies, subject to condition they will not avail any incentive or exemptions (the effective corporate tax rate after surcharge will stand at 25.17%).
Manufacturing companies set up after October 1 to get an option to pay 15% tax (17.01% inclusive of surcharge & tax)
Listed companies that have announced buyback before July 5, 2019, tax on buyback of shares will not be charged
To provide relief to companies availing of concessions and benefits, a MAT relief by reducing it from 18% to 15%
Higher surcharge will also not apply on capital gains on sale of security including derivatives held by FPIs