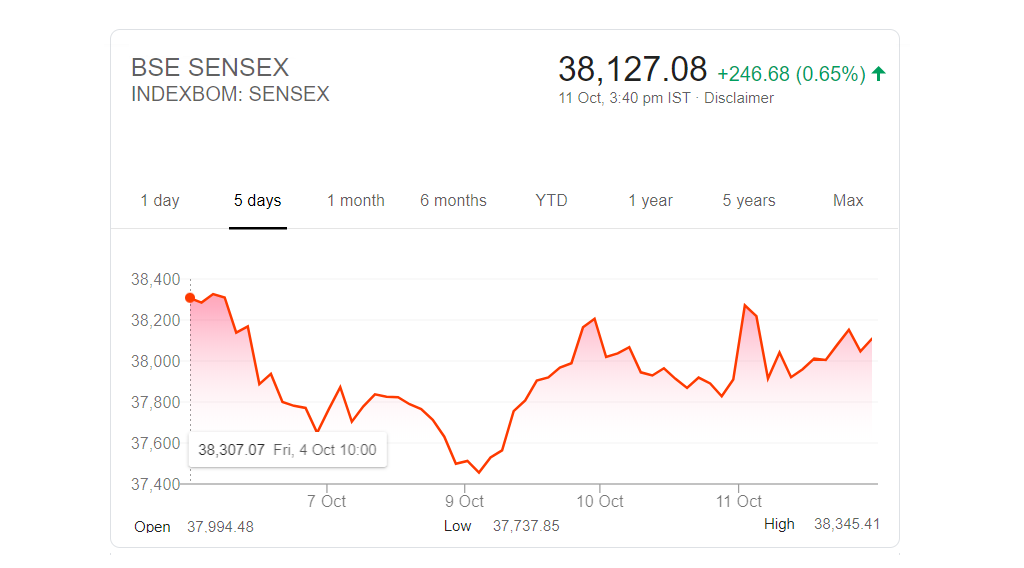 The market is on a roller coaster ride due to global and domestic uncertainty. The benefit of the corporate tax cut will be seen in Q2 earnings, which means most of the companies paying tax rate from 35% to 39% including other surcharges, will pay only 25.17%. IT companies are less benefited with the move, as most companies operate in special economic zone (SEZ) & already enjoys below 25% tax.
RBI slashed repo rate by 25 basis points to 5.15%, in a fifth consecutive rate cut to boost growth, but at the same time cut the GDP growth forecast of FY20 to 6.1% from 6.9%.
IRCTC IPO was oversubscribed by 112 times, to debut on Monday, October 14.
Indian Benchmark indices ended in positive territory after positive cues from the global market, over good trade talk between US-China on a Thursday. Sensex settled at 38127 & Nifty 11305. On a weekly basis, Sensex gained 0.72 % & Nifty 0.97%.
Friday IIP (Index of industrial production) numbers were declared, which is worst since 2012, leading to negative growth, i.e. -1.1%, which again shows more measures are needed for recovery.