If I'll be you, I'll not panic… Why?
If you look at the chart below, since June 28th, when SEXSEX was at 35,037 level, it climbed to a peak of 38,896 level by Aug 28th, i.e. in just two months a gain of 3800+ points or 11% UP. Did we question that point of time…why so suddenly the market went UP?
Again, if you look at chart below, from beginning of the year, i.e. 1st Jan, SENSEX was at 33,812 level, and from there it went to a peak of 36,283 level by 29th Jan, a gain of 2400+ points or 7% UP. And a correction or a reaction to the budget (key trigger), for the next 2 months slide.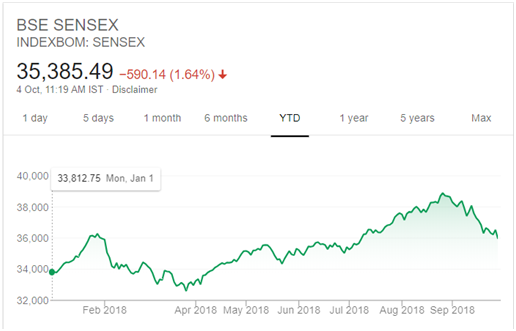 Above all, key question is, when did I enter the market? The usual answer will be, not in this phase (last three months), i.e. most likely your investments will be spread over multiple years or months (if started recently). Your returns which was looking fabulous last month (when market was at its peak), will come down, but not down to levels, where one should panic.
Fundamentals aside, market sentiment is very weak, with global factors dominating today, over & above the IL&FS story. Crude relentless surge, dollar gaining, and looming trade wars/ sanctions are all driving the market/ sentiment mad.
If you are invested for a long term, i.e. at least 3 to 5 years+, JUST STAY PUT. But keep talking to your advisor, who acts as a coach in this troubled time, to logically explain you the market volatility & WHAT NEXT.
Quote of the Day: "we defend many of these nations (OPEC) for nothing, and they take advantage of us by giving us high oil prices. Not good. We want them to stop raising prices, we want them to start lowering prices," President Trump.