A term plan can only help in death and a health plan can help in case you are hospitalized, some of these policies also offer accidental riders, but these riders are not as comprehensive as standalone Personal Accident Insurance policies have.
Accidental Insurance Policy covers you from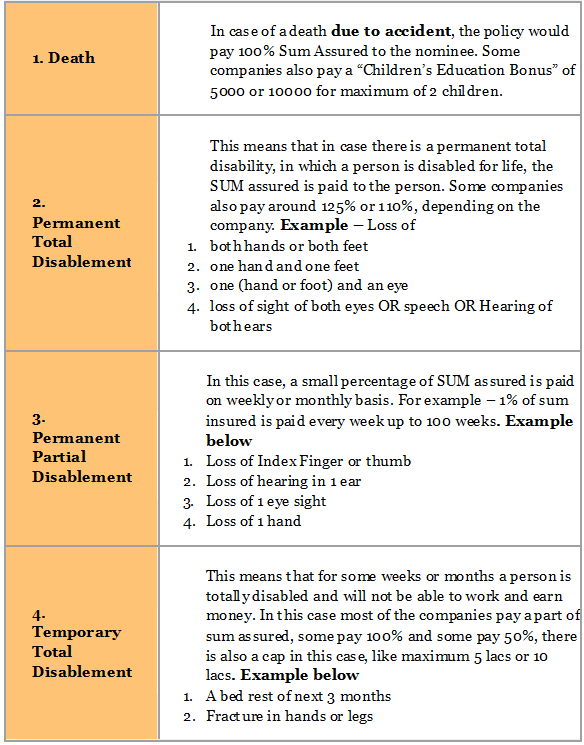 What all is excluded from policy?
Accidental policies do not cover Deaths or disablement because of
Intentional self-injury, suicide or attempted suicide.
Influence of intoxicating liquor or drugs
By committing any breach of law with criminal intent
Suffering from any pre-existing condition or pre-existing physical or mental defect or infirmity.
Aircraft pilots and crew, Armed Forces personnel and Artistes engaged in hazardous performances are totally excluded
Premium does not depends on age
Premium does not depend on age in these policies. Premium is decided on risk your job profile has! Each kind of job profiles are divided into different risk level, sometimes its 1, 2, 3 and sometimes it's just 1, 2.
Risk Level 1 (Low Risk)
Risk Level 2 (High Risk)
1. Doctors
2. Engineers
3. Bankers
4. Accountants
1. Underground mines workers
2. Jockeys, circus personnel


3. Mountaineering, rock climbing & bungee jumping,